45 feet in all directions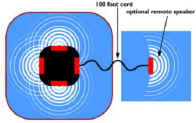 Optional remote speaker and 100 feet of cord for unusual space configurations or areas divided by walls, use up to four remote speakers to stretch sound farther.

The QB-4's four Piezo ceramic speakers emit overlapping patterns of ultrasonic sound waves that zero in on the birds and bats (but people can't even hear them).

Harmless to birds & bats - ecologically safe bird & bat repeller!

The irritating sound waves produced by the QB-4 ultrasonic bird & bat repeller will not harm birds or bats, but will attack them aggressively in any enclosed or semi-enclosed areas where they roost. The adjustable variations in pitch and sequencing make it difficult for the birds & bats to acclimate to any constant sound pattern.

Install QB-4 wherever birds & bats infest.

QB-4 bird & bat repeller is designed to act as an important aid in routing birds or bats from their infestations in plants, warehouses and semi-enclosed locations such as loading docks, railroad sidings, tunnels, breezeways, underpasses and storage sheds.

Installation couldn't be easier.
There's no "top" or "bottom" to the unit, so it can be mounted in any direction - on any plane - with screws, nails, wires or adhesives.